Blackburn Rovers have never been a huge football club but have been a prime example for small town teams in terms of stability and success. They did reach the peak of English football back in 1995 when lifting the Premier League title. Since then they have remained fairly consistent with some decent cup runs, including a Carling cup win, a remaining for the most part a solid top flight team.
Without huge gate receipts or sponsorship income the club has had to be extremely well managed to cope with the financial strains on football clubs in this era. John Williams role at the club was overlooked for many years but now that he and many others who did such fantastic jobs are gone the void they have left seems larger than a black hole.
The fall of Blackburn Rovers FC began on a day that bought joy to many Rovers fans this was the day the club was sold to Venkys. Fans had hoped this day would be the start of a new era and era where we no longer needed to sell our stars to raise cash to keep the club ticking. How this bright future we had in mind soon started to turn dark and full of lies and a seemingly endless downward spiral.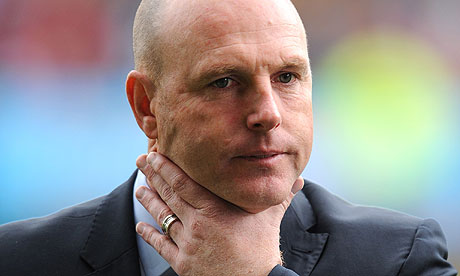 The first big fall was when Big Sam was shown the door, although many fans did not hate this decision, they were not ready to see him replaced with a first team coach with no experience as a manager let alone in the Premier League. But hey everyone deserves a chance right? Right! But there is giving someone a chance and then there is Steve Kean and Venkys. I am under no doubt that SK blew his chance a long time ago. His record stands for all to see. He has taken BRFC from a solid Premier League team to a laughing stock not only on the field but off it. He is full of not much brains but a lot of BS. I don't know whether to laugh or cry when I watch his smug face giving a post match interview talking about how many times we were in the opposition box or how all the players are united. Its great they are all united in not seeming to give a damn Steve!! But you should have united them into a team that looks like they train and play together on a regular basis.
Steve Kean seems to get a lot of backing from the footballing community and this really irritates me. How can you come out and defend a man who tells the national media that Ryan Nelson is not fit to play but will be back in the team soon and then release him and he is playing for Spurs the next weekend. Or a man who is willing to fly to India every week instead of being on the training ground with a team that clearly needs some organising. He even feed us all the talk of bringing in superstars such as Beckham and Ronaldinho but we end up signing the likes of Slew and the other Ollson twin.
I still find it hard to believe that this is all real. I am starting to believe the conspiracy theories about Venky's asset stripping the club and wanting them to be relegated to collect parachute payments. They have already collected nearly the amount they paid for the club, if not more from player sales.
They clearly have no interest in the football side of things as I could count on my fingers they amount of games they have seen live since taking over. So what is there real motive. I guess only time will tell but I hope for sure some higher powers are looking into the situation, for the sake of all the average fans like me out there, before one of the Greatest clubs in British football is no more.